USS OMAHA 1869: the "first" ASTORIA

Launched as USS ASTORIA in 1869 and renamed later that year, OMAHA was built as a 2400-ton sloop of war.  Her original design and intent was to protect American shipping interests worldwide, but she served in various capacities throughout her life from 1872 through 1914, including participation in the presentation of the Statue of Liberty and the funeral of president Ulysses S. Grant.  She was fitted with both steam engines and a full sailing rig, as coaling stations were not yet in wide use by the United States. 
A collage of the USS OMAHA and her 1873-circa officer complement.  OMAHA was originally named ASTORIA when her keel was laid down at the Philadelphia Navy Yard.
-U.S. Naval Historical Center Photo
From the Dictionary of American Naval Fighting Ships:

The first USS

OMAHA

was laid down in 1867 by the Philadelphia Navy Yard as

ASTORIA

; launched 10 June 1869; she was renamed

OMAHA

on 10 August 1869; and commissioned 12 September 1872, Captain John C. Febiger in command.

OMAHA
's
first assignment was with the South Atlantic Squadron, and she served alternately on South and North Atlantic Stations from 1873 to 1879. From 1880 to 1884,

OMAHA

was laid up in ordinary at Philadelphia, for a complete refit. By 1885 she was en route to the Asiatic Station via Cape Horn.



OMAHA

served on the Asiatic Station from 1885 to 1891. In 1890, on the night of 8 February, she put ashore a detachment of officers and men to assist in fighting an extensive fire in the town of Hodogaya, Japan, on request of the United States Consul-General, and rendered an exceptional service.

In 1891,

OMAHA

returned to Mare Island Navy Yard, where she decommissioned and was placed in ordinary. She never recommissioned, but later was turned over to the Marine Hospital Service, and subsequently anchored at San Francisco for use as a Quarantine Ship for infectious diseases.

OMAHA

served in this capacity until struck from the U.S. Naval Register 10 July 1914.  She was sold, 17 April 1915, to Smith & Bondrow.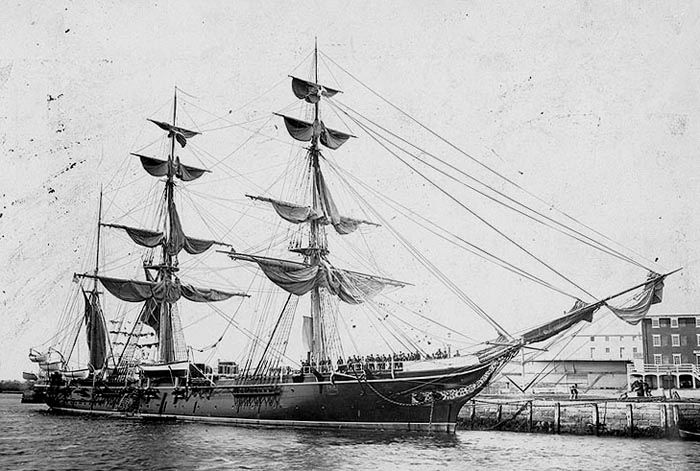 The ALGOMA-class wooden screw sloop USS OMAHA at Portsmouth Navy Yard, Kittery, Maine circa 1880s.
-U.S. Naval Historical Center Photo
USS OMAHA Specifications:
Displacement:    2394 tons
Length:                250 ft 6 in
Beam:                 38 ft
Draft:                   17 ft 6 in
Speed:                11.3 knots
Armament:          one 11" gun, ten 9" guns, one 60 lb cannon, two 20 lb cannon
USS OMAHA at anchor in an undated photograph.
-U.S. Naval Historical Center Photo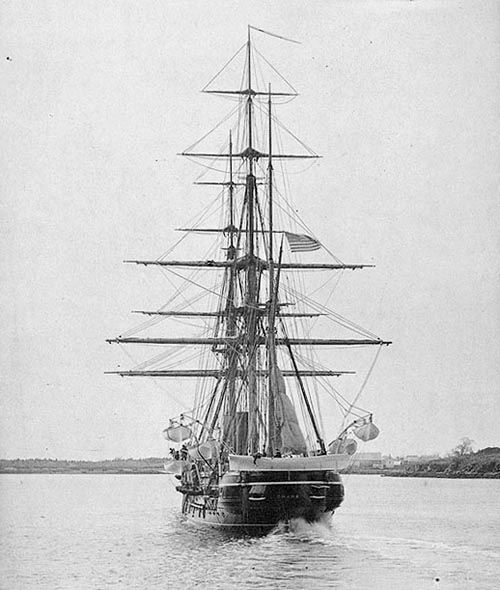 USS OMAHA in the Piscataqua River off the Portsmouth Navy Yard, Kittery, Maine circa 1880s.
-U.S. Naval Historical Center Photo taken by L.V. Newell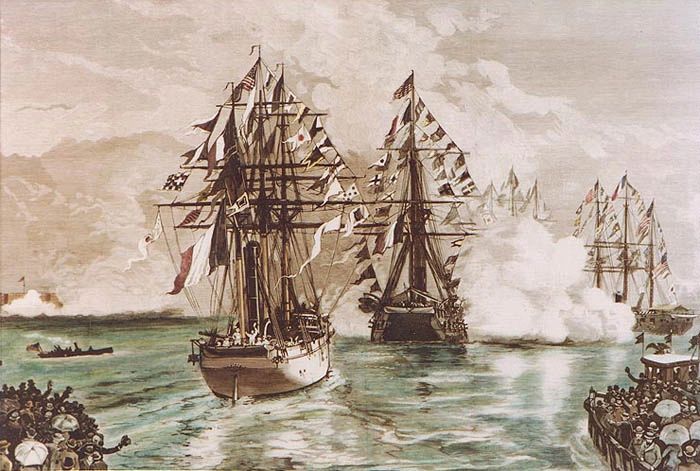 Engraving entitled "Reception of the Bartholdi Statue of Liberty Enlightening the World...  The Procession Passing Through the Narrows."  French ships fire a salute in the foreground; USS OMAHA is at far right.
-J.O. Davidson engraving in U.S. Navy Art Collection, Washington D.C.
USS OMAHA's Marine complement mustered on deck at Portsmouth Navy Yard circa 1880s.
-U.S. Naval Historical Center Photo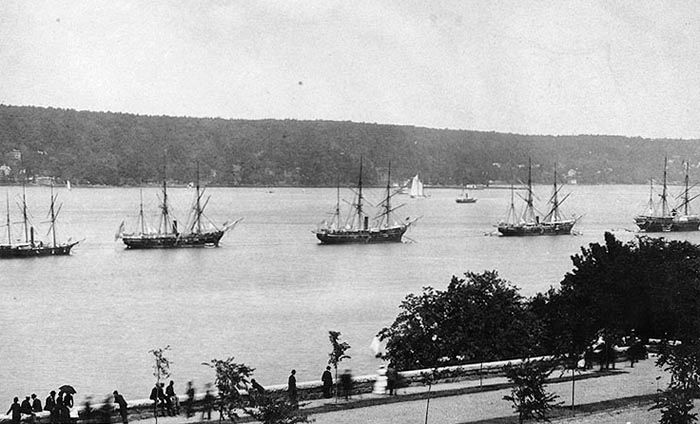 Taken from a vantage point in Manhattan over the Hudson River, this photograph depicts U.S. Navy warships rigged for mourning.  The image was likely taken in August 1885 during the funeral of Ulysses S. Grant.  USS OMAHA is second from right.  Note the pedestrians along the riverside walk.
-U.S. Naval Historical Center Photo



From 1895 through 1914 the decommissioned OMAHA remained at anchor as a quarantine ship off Angel Island, California.  Her masts were cropped and a large covered structure was added to her deck to house diseased immigrants and sailors.  Quarantine ships were employed to prevent the spread of infectious diseases during this era.
-U.S. Naval Historical Center Photo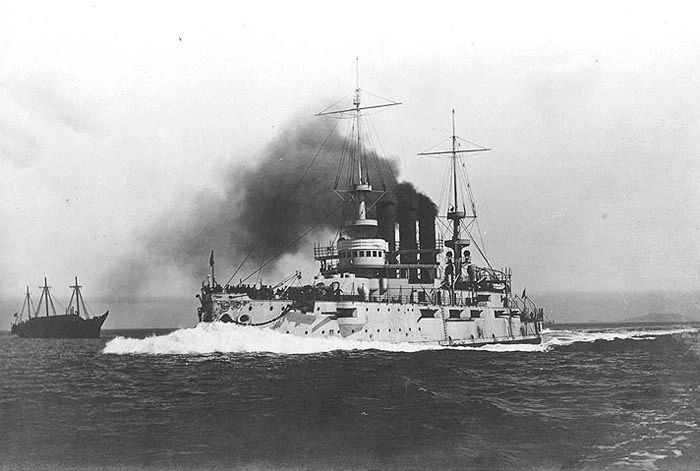 The future and the past: the newly commissioned USS OHIO on trials in San Francisco Bay, 26 July 1904 while the quarantine ship OMAHA sits quietly at anchor at left.  OMAHA would remain in use for another ten years until she was struck from the U.S. Naval Register on the eve of the Great War in 1914.
-U.S. Naval Historical Center Photo




BACK TO USS ASTORIA LEGACY

Sources
Mooney, James L., ed.

 

Dictionary of American Naval Fighting Ships, 8 Vols. Washington, D.C.: Government Printing Office, 1959-91.

U.S. Naval Historical Center Online Library at http://www.history.navy.mil/