Eldred C. "Bud" Biggs

USS ASTORIA CA-34 1936-1939


Eldred Biggs as a warrant officer circa 1945.
-photo courtesy of daughter Dianne Janis


Eldred C. "Bud" Biggs served aboard USS ASTORIA CA-34 from 1936-1939. Right after he came aboard, the ship left Long Beach for Panama and Peru. Biggs took part in the largest Neptunus Rex party in history, earning his place in the Royal Order of Trusty Shellbacks as ASTORIA and the U.S. fleet crossed the equator in May 1936.
The USS ASTORIA Neptunus Rex certificate of Eldred Biggs dated 20 May 1936.
-courtesy of Dianne Janis
Biggs served in the ship's Engineering Department throughout 1936-1937. During this time ASTORIA made a tour of the East Coast, participated in Fleet Problem XVIII off Hawaii, and made an appearance at the Portland Rose Festival and Fleet Fiesta. In 1938, Biggs was assigned as engineer for the Captain's Gig, "the best racket in the Navy" as he put it in his journal. He served in this capacity when ASTORIA paid a visit to several ports of call in the Territory of Alaska in summer 1938.
ASTORIA's Captain's Gig alongside the pier at Unalaska, Territory of Alaska in July 1938. Bud Biggs is at center with his back to the camera. Note the life ring at right marked "U.S.S. ASTORIA."
-photo courtesy of Dianne Janis
The ASTORIA boat crews ashore at Unalaska in July 1938. Bud Biggs is at center. Note the white deck shoes worn for working on slippery small craft decks.
-photo courtesy of Dianne Janis
In 1939, his fourth year aboard ASTORIA, Biggs was assigned to the ship's engine room. In April he took part in the trip returning the ashes of Ambassador Hirosi Saito to Japan. In his words, Yokohama was "the best liberty port we ever visited. The people did everything possible to show us a good time."
From Japan the ship continued on to China, where Biggs "saw results of war" while the ship navigated the Huangpu River through Shanghai. In spite of the Japanese occupation, Biggs and his shipmates "traveled all over town and saw many sites including the China nightlife. Everyone was sorry to leave such a good port except of course the married men. The lure of the Orient has gotten under the skin of a good many of the crew."
After stop in Hong Kong, Manila and Guam, where Biggs sweated off eight pounds in the heat, ASTORIA again crossed the Pacific. She returned to her home port of Long Beach 157 days after she had left, by far the longest the ship was ever away from home. Biggs left ASTORIA for a new assignment shortly after.
Bud Biggs (at upper left) with USS ASTORIA shipmates stateside in 1939, shortly before he left ship.
-photo courtesy of Dianne Janis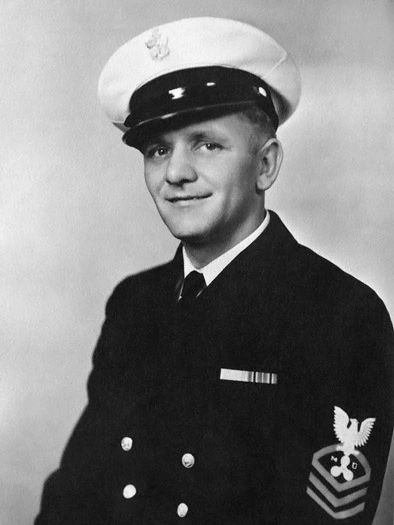 Eldred C. 'Bud' Biggs remained in the U.S. Navy throughout World War II, serving in a variety of capacities and duty stations. This photo, circa 1943, shows Biggs as a Chief Machinist's Mate. he left service in 1945 as a warrant officer.
-photo courtesy of Dianne Janis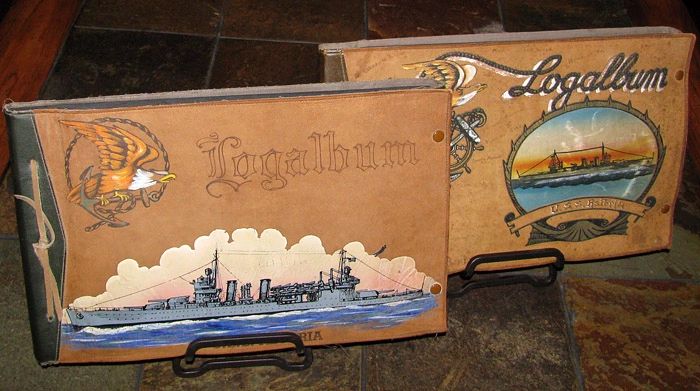 The photo albums of Walter Bajor and Eldred Biggs in April 2013, side by side more than 70 years after the men served together. Their collected ASTORIA photos provide a significant contribution to this website.
-Brent Jones photo
Sources
Janis, Dianne. Family photo and document collection.
Jones, Brent. Private photo and document collection.
Jones, Pat (ed.)
The USS ASTORIA (CA-34) and the Men Who Sailed Her.
USS ASTORIA Reunion Association. Privately printed, 1992.
Return to Ship's Crew

BACK TO USS ASTORIA HOMEPAGE