Dale H. Breneman

USS ASTORIA CA-34 1941-1942
Missing in Action, Declared Dead

Dale Breneman as a Fireman in 1941-42.
-photo courtesy of Mike Breneman

Dale H. Breneman joined the United States Navy in November 1940. Following boot camp at NTS San Diego, he was assigned to USS CALIFORNIA BB-44 in May 1941 as a Seaman 2nd Class. Shortly after reporting aboard, he was transferred into the Engineering Department as a Fireman 2nd Class.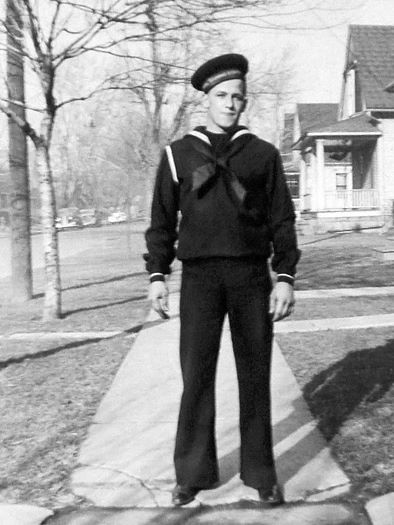 Breneman upon joining the U.S. Navy. His cuffs indicate he is an Apprentice Seaman and the band on his hat is marked "Naval Training Station." This photo circa December 1940 was taken in Toledo, Ohio.
-photo courtesy of Mike Breneman
Breneman poses with a micrometer in a photo taken for an Ohio newspaper circa 1941.
-photo courtesy of Mike Breneman
Breneman was aboard USS CALIFORNIA moored at Pearl Harbor when the Japanese attacked on the morning of 7 December 1941. The ship was struck by torpedos and bombs, sinking her at her berth and killing 100 of her crew.
USS CALIFORNIA BB-44 is obscured by intense fires from burning fuel oil. A significant number of her crew, their ship torpedoed and sunk, were transferred to USS ASTORIA for sea duty.

-
U.S. Navy photo from Brent Jones collection
Breneman survived the sinking of USS CALIFORNIA, and was transferred along with a number of his shipmates to USS ASTORIA CA-34 when she returned to Pearl Harbor on 13 December 1941.
He served aboard ASTORIA through the Battle of the Coral Sea in May 1942. Three days prior to the battle, he was promoted to Fireman 1st Class.
Breneman then served aboard ASTORIA in the Battle of Midway and the invasion of Guadalcanal, followed on the night of 8 August 1942 by the Battle of Savo Island, where USS ASTORIA was sunk along with three other cruisers. Breneman lost his life in the battle.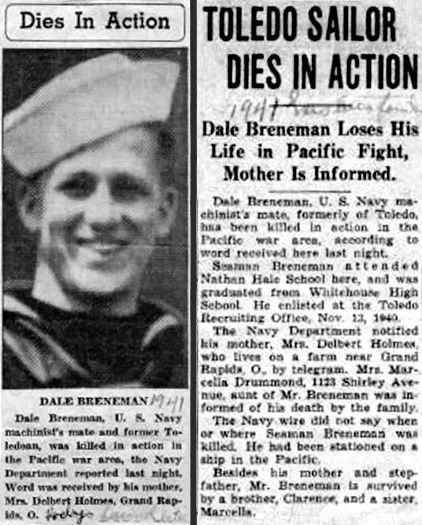 An article circa September 1942 in the Toledo newspaper announces that Breneman gave his life for his country in the Pacific. At this time he was officially still listed as missing in action. The loss of ASTORIA and her sister cruisers at Guadalcanal would not be made public until mid-October, more than a month later.
-photo courtesy of Mike Breneman
Dale Breneman's service medals. Clockwise from upper left: American Defense, Order of the Purple Heart, Asiatic-Pacific Campaign, American Campaign, Good Conduct, and World War II Victory medals. At right is the engraving on the reverse of Breneman's Purple Heart.
-photos courtesy of Mike Breneman
Dale Breneman was officially declared dead on 10 August 1943, one year after his MIA date. Although his remains were never recovered, his family placed a VA marker alongside the grave of his parents. Ship's records were lost in the sinking, along with Breneman's promotion date to Machinist's Mate 3rd Class. He received a posthumous promotion to Machinist's Mate 2nd Class.
-photo courtesy of Mike Breneman
Sources
Breneman, Mike. Private photo and document collection.
Jones, Brent. Private photo collection.
Return to Ship's Crew

BACK TO USS ASTORIA HOMEPAGE